Change is in the air!
We are proud to announce that Georgetown University's Center for Social Impact Communication (CSIC) officially relaunches today with exciting evolutions and a new website.
Our core as a research and action center at the University's School of Continuing Studies remains, but the focus and execution of how we bring to life a philosophy of social impact is growing.
Our evolved mission is to increase social impact through the power of marketers, communicators, fundraisers and journalists working together toward shared goals. We believe effective, systems-level coordination between often-siloed teams is the future for how impact organizations must sustainably reach their missions.
It's our goal to encourage and inspire the adoption of this type of thinking through applied research, graduate courses, community collaborations and thought leadership. Only when we break down silos within organizations, across rigid functional areas and by activating every individual's strengths can we best create the impact of which we dream and the world needs.
We call this idea embracing the blur for good, our new motto.
Check out our new website to read more about this philosophy, download research, learn about our graduate courses, sign up for events, search for a job and more. We also invite you to send us a note with your thoughts about the Center's new direction.
Onward!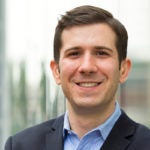 John Trybus is the managing director of Georgetown University's Center for Social Impact Communication, a research and action center working to ignite the power of responsible marketers, communicators, fundraisers, and journalists to combine their strengths within an organization in order to drive societal change. John is charged with directing the Center's operations, strategy, partnerships, research and curriculum.