by Shalini Sinha | This article first appeared on LinkedIn.
I decided to take Georgetown University's Cause Consulting course, offered by the Center for Social Impact Communication, solely because of its premier reputation. Ask any PRCC Hoya, and they'll tell you about this signature class. So much so, that a few students have casually mentioned that Cause Consulting was the reason they initially applied for Georgetown's graduate program.
On a personal level, however, I was a little skeptical of this class. Cause Consulting, as the same suggests, advances students' consulting skills in the non-profit sector. I was worried my lack of experience in the social impact sector might prevent me from succeeding. With a prior background in the for-profit field, and having worked for corporations, I considered myself an anomaly among my peers who had an extensive understanding of the social impact landscape. My knowledge, however, was limited and I barely understood the intricacies of donor communications. The only thing working in my favor was my sheer curiosity to learn something new.
I met Prof. Trybus, who teaches Cause Consulting, for the first time during a Christmas party at Georgetown. A fellow classmate had introduced us, and I remember sharing my excitement and apprehension about taking his class. When I saw him next, it was during our first class the following semester. It's hard to compile everything I have learned during my journey as a Cause Consultant, simply because one LinkedIn post is not enough for that. But my most important takeaway was not during the class, rather in the aftermath when I started working on my Capstone project.
I never expected my Cause Consulting skills to help me navigate through Capstone, especially because my client is a big corporation, a Fortune 100 company nonetheless. That's when I realized that the lessons I learned as a Cause Consultant were not limited to one sector. Reflecting back, those were life lessons about teamwork, collaboration, strategic relationship building with your client.
Learning the value of cross-sector collaboration was one of the most important things I learned at Georgetown. To all current and future Hoyas, I urge you to take this class irrespective of your professional background and future aspirations – learn without boundaries! When I started this class I was an anomaly, until I wasn't.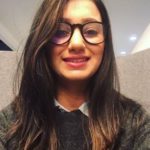 Shalini Sinha is a Digital Communications Strategist with industry expertise in digital, mobile, social, and branded content. Shalini helps organizations adapt to digitalization by understanding user needs, embracing new technology, and getting innovative products and services to the market. She has successfully conceptualized, implemented, and spearheaded several innovative projects globally and have been recognized by international organizations like MarCom. Shalini tells compelling brand stories with a user-centric point of view to drive revenue for companies. She has applied innovative thinking to address client's strengths and strategic communications needs. Shalini has a strong track record of building lasting client relationships and have worked extensively with senior leadership from diverse sectors including Finance, Healthcare, Non-Profits on digital investments and business strategy.