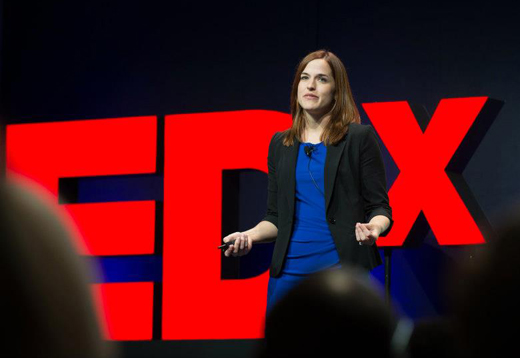 Close Me!
CSIC participates in TEDxChange, convened by the Gates Foundation in Seattle, Wash. in April (Photo courtesy of TEDxChange).
From the Blog: Operation Impact
December 9, 2013 -- Twelve years after the September 11 attacks, there are approximately 2.6 million veterans of the wars in Iraq and Afghanistan living in the U.S. Like previous generations of veterans, this group has faced significant challenges upon coming home, such as joblessness, post-traumatic stress disorder (PTSD), and difficulty securing benefits.
In honor of Veterans Day and Military Family Appreciation Month, Hoya CauseNet and CSIC invited representatives of military- and veteran-focused organizations to participate in "Operation Impact," a panel discussion about how to help these populations and the role that communications plays in effectively reaching them.
Joining the panel were: Sunset Belinsky, Public Affairs Officer, U.S. Army, and CSIC Research Fellow, Kara Dallman, Senior Director for Operations, United Through Reading (UTR); Kristin Henderson, Communications Director, Yellow Ribbon Fund (YRF); and Lauren Villeneuve, Online Engagement Specialist, Wounded Warrior Project (WWP). Read more
About the Center
Georgetown University's Center for Social Impact Communication (CSIC) is the nation's leading educational resource on social impact communication. Launched in 2008 and housed in the award-winning Master of Professional Studies program in Public Relations and Corporate Communications, CSIC aims to elevate the discipline by pioneering industry standards in responsible communication practices and by educating and inspiring the professionals who lead the way in creating positive social impact through their work.
Research Highlights
Communication and the Veteran Employment Problem - According to the Bureau of Labor Statistics (BLS) from the Department of Labor, veterans from the wars in Iraq and Afghanistan continue to be more likely than their civilian peers to be unemployed. CSIC Research Fellow Sunset Belinsky explored the issue of veteran unemployment as a function of the communications challenges faced by four different key stakeholder groups: veterans, employers, the government, and veterans service organizations. Her newly-released white paper offers recommendations on ways in which they can work—both on their own and collectively—to overcome these challenges.